Meet our guest star
Jim Daniels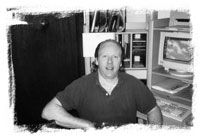 "Quit your job and make a living on the net? It's not just hype. Real people are actually doing it." More info here...

Listen in to Episode 1 now
"The Showcase - Part 1"


Entrepreneur Jim Daniels started his online business with just $300. Six months later he was earning enough to quit his day job and his "web income" is now well into six figures a year. Jim's websites shows others how to spin serious profits from the web, right from the comfort of their own homes.
Smithfield, RI -- Internet marketing guru Jim Daniels wasn't always an expert on making money on the web. "I didn't even have a computer," says Daniels. "In early 1996 I used my $300 tax refund to buy a used 386 computer." For the next few months he spent evenings online searching for the best ways to start and market an Internet business.
"By the time I'd found my way around the Internet, I had 40 pages of great tips, a kind of road map to starting your own business online." That became the basis for Daniels' first publication, "Internet E-mail! Beyond the Basics!"

Sales of his manual were so hot that he quickly saw his career changing. "I woke up one morning to realize I was making more from the Internet than I was with my regular job."

Daniels points out that starting your own Internet-based business and quitting your regular job is often much faster and easier than people realize. "There's an important key to building a profitable small business very quickly. Avoid costly mistakes. Get expert advice."

Daniels' newest creation, "Make A Living Online", has been receiving rave reviews from both newcomers to Internet marketing and web marketing veterans alike. Daniels describes it as a complete package of "information, services and support" for anyone interested in making their living online. "There's really nothing else quite like it on the Internet."

Daniels' philosophy is simple: "You've got to utilize all the latest, smart marketing tactics available to the little guy".

"No question about it," Daniels says. "Fortunes are being made on the Net and there's no reason why ordinary people can't be a big part of it." Daniels has certainly proven that possibility with his own example.

Do you want to realize your own dream, working from home and earning your own online fortune? Then let Jim Daniels take you by the hand and show you exactly what you need to do. This up-to-the-minute course could be the best investment you'll make this year.

More info here...