Gary Knuckles
"Just call me crazy"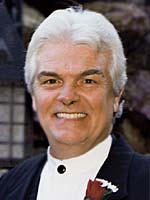 Gary Knuckles has a web radio show where he is known as the "Crazy Web Guy". He interviews noted guests and speakers on his show about their success. Drop in and listen to Alex Mandossian, Tony Blake, Rosalind Gardner, Stephen Pierce and other successful guests.

His show is located at:

http://www.CrazyWebGuy.com


Listen in now to
Series 2 - Episode 7
"Gary Knuckles,
Just call me crazy"






Gary is the previous owner of the five year old AudioWhiz.com website business which features AudioWhiz study cassettes and audio CDs. In Gary's words; "I'm learning as you help others, you receive so much more in return as well, and I'm not just meaning from a profit standpoint."

In 1999, with only $500 he successfully built that online business, which generated over a million dollars in 3 years time, selling self-produced audio CDs, and cassettes to a niche computer training info market. When he sold the business he had 25+ products that he had developed and marketed through his affiliate program and online promotions.

He sold that business and his current company BudgetWare, Inc. now develops software and digital info products. This includes MP3s, PDF files, CDs and writing ebooks. His company also provides consulting; recording services for teleseminar events, and they host and coordinate teleseminars, including PDF file creation and conversion services.
His company also provides teleconferencing services to those needing easy and affordable conference lines for their business. You can read more at:

http://www.e-Teleconferencing.com

Gary's company's flagship product is a software program called Internet Information Manager designed for managing your marketing, business contacts, projects, ebooks and online information. It is also being used for study and research projects by students to manage their many online and study projects.

He has been featured in Cory Rudl's "Secrets To Their Success" site, Peter Twist's "Internet Marketing Lounge", the Six Figure Income Magazine, Joe Kumar's "30 Days To Internet Marketing Success", Randy Gilbert's "The Inside Success Show" and recently spoke at Willie Crawford's "Internet Marketing How To Workshop" in Pensacola Florida in 2003 and 2004.

He is the creator of the popular marketing software called "Internet Information Manager", authored the ebook "Hackers, Viruses, Spyware - OH MY!" which is a guide to help computer users protect their computer, and has an upcoming yet to be revealed "How To" ebook/book slated for an early 2004 release.

Gary is also spearheading the JVAlert.com project called the Perpetual Learning Series for Ken McArthur at JVAlert.com, which includes Gary handling the teleseminar and training events in addition to hosting the events and working with the guest speakers.

Click here for the Perpetual Learning Series Details

Some of his other sites include:

http://www.BudgetWare.com
http://www.InternetInformationManager.com
http://www.Hackers-OHMY.com
http://www.Internet-Marketing-Teleseminars.com
http://www.e-Teleconferencing.com
http://www.CreateInformationProducts.com
http://www.SuperAffiliateHowTo.com

Gary adds: "Having owned several businesses over the years I have gained an excellent education from these experiences, called "bumps and knocks" along the way. I guess that's why my late Dad called me knot head?"

"First and foremost I am a Christian and know that the Lord helps guide me in my actions and certainly has blessed me and my family in our business and our lives."